Cavendish
News
Cavendish wins prestigious Global Gaming Award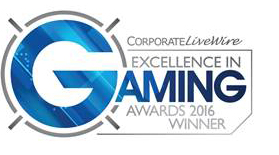 Cavendish Trust, part of the Abaris Fiduciary Group of Companies, has shone at this year's Corporate LiveWire – Excellence in Gaming 2016 Awards, winning the 'Niche International Service Provider – Global' Award at the first time of asking.
The Corporate LiveWire Awards represent the pinnacle of business achievement, championing the very best in their respective fields through a growing list of awards programmes that place the spotlight on developing industry sectors.
Having closely monitored the rapid growth of the Gaming sector, Corporate LiveWire earlier this year launched the 2016 Excellence in Gaming Awards, in recognition of companies that have displayed excellence, innovation, creativity and commitment to the Gaming industry.
In the judges' opinion, the winners showcased businesses that have proven to be exemplary over the course of the last 12 months.
As a long-established, multi-jurisdictional Company, Cavendish Trust was nominated in the category 'Niche International Service Provider – Global' and, following a meticulous selection process, beat its competition to become the proud recipient of the inaugural award.
A lead Cavendish Director, explained that Corporate LiveWire had recognised Cavendish Trust's great potential in e-commerce and e-gaming. "It was over a year ago that we made the decision to seriously ramp up our gaming team," she said. "We wanted to bring together a talented team of specialists across the range of skills required for this niche sector.
"We have taken on some excellent new clients in the last 12 months and the strength of our new business pipeline is outstanding. The nomination for this award has demonstrated to us, not only that our decision was the right one, but also that our clients believe in us. We have put in place a professional and skilled team which means that we can really add value to any size e-gaming business, whether they are a start-up or an experienced global operator."
Jake Powers, Awards Director of the 2016 Gaming Award Winners Guide, said: "We are delighted with the prominence of this year's winners. We are especially excited to add the Gaming Awards to our growing list of technology-based awards programmes. It is an industry that is rapidly generating a lot of new activity and we look forward to showcasing the wide variety of talent within the Gaming industry."
In addition to Cavendish Trust, this year's Isle of Man based winners also include Mann Benham and Global Betting and Gaming Consultants, demonstrating that the Island has a wealth of talented professionals available to support the continued growth of the sector.